Makita 18v Combi Drill + Impact Driver Set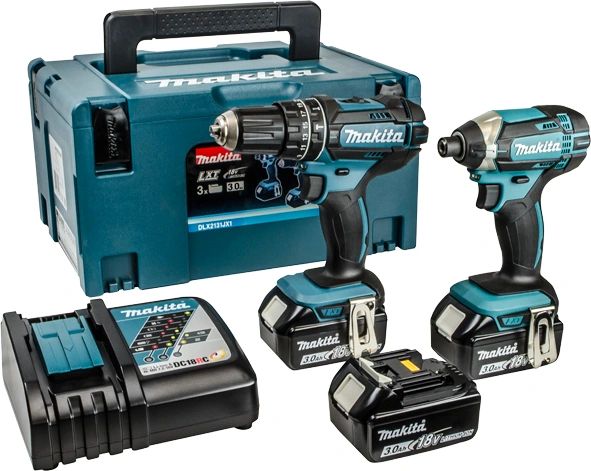 Makita 18v Combi Drill + Impact Driver Set
Special Offer - Only While Stocks Last
The DLX2131 Twin Kit from Makita contains models DHP482 and DTD152 with 3 x 3.0Ah Lithium-Ion Batteries.
The DHP482 18V LXT Combi Drill from Makita is a compact and precise power tool for the professional or DIY enthusiast. It features an all-metal gear construction for extra high transmission durability as well as an electric brake and variable speed control trigger. You will find this an extremely comfortable drill to use with its ergonomic soft grip handle and lightweight design.
Model DTD152 is a cordless impact driver powered by 18V Li-ion battery and developed for main applications such as tightening of self-drilling screws or light duty machine screws.
Supplied in a Makpac type 3 connector case.
Features include:
DHP482Z
Electric brake
2 mechanical gears.
Variable speed control by trigger
Forward/reverse rotation
Twin LED job light
Ergonomic soft grip
Keyless Chuck
Compact and lightweight design
Equipped with Battery protection circuit: designed to protect the battery from damages due to overdischarge, high temperature or overload current.
Metal gears
DTD152Z
Electric brake
Variable speed control by trigger
Forward/reverse rotation
Twin LED job light
Ergonomic soft grip
Compact and lightweight design
Equipped with Battery protection circuit: designed to protect the battery from damages due to overdischarge, high temperature or overload current.
High rotation speed
One-touch bit installation

Featured Products